Summary of 2022: In 2022, Polish cinemas recorded a very good result – 40 million viewers.
In 2022, Polish cinemas recorded a very good result – nearly 40 million viewers. This is the first full year when cinemas have been operating continuously, and the long-awaited premieres have not disappointed, gathering millions of viewers in front of the silver screen. 2022 is a time of changes in the entire film industry – new players have appeared on the market (Disney+), the Polish premiere of HBO MAX for existing and new HBO GO customers. It is also the time when distributors decided to have an exclusive premiere of their films in cinemas. Six weeks in the cinema is a good time for the distribution of the film, and only after this period it hits streaming platforms.
July was the month with the highest number of tickets sold, with a result close to 4.7 million viewers. This result is matched by a very good turnout in July 2019. December also ended with a great turnout. This is the time of emission and premieres of Christmas productions, good animations and the most anticipated spectacle "Avatar: The Essence of Water". This high-budget production recorded the best opening result of the premiere weekend, i.e. over 500,000. tickets sold. The latest data from BoxOffice proves that it is not only the so-called opening that has been a success. In December, the new story was watched by nearly 2 million viewers.
In 2022, Western mega-productions did not disappoint, but we were also positively surprised by Polish films. Almost 3 million viewers is a very good result, even for the pre-pandemic😊 realities "Minions: Enter Gru" proves that it is possible. The premiere took place on July 1, and so far we can see this animation in selected Cinema City cinemas. For a long time in the first half of the year, "SING 2" reigned. The beginning of 2022 is a good time for significant children's films. On the first weekend of January there is always a super hit – an animated film. The continuation of the adventures of the singing heroes did not disappoint this time, gathering nearly 1.5 million viewers in front of the big screen.
Fans of super heroes also did not disappoint with entertainment on the big screen. In the TOP 10 list, as many as half are high-budget films from the world of Marvel and DC. Also noteworthy is the film adaptation of the game concept "Uncharted" – a hit attendance in February last year. "TOP GUN: Maverick" a film for everyone (although in our opinion primarily for slightly older viewers 35+😊) also received a sensational result of 1.6 million tickets sold.
TOP 10 2022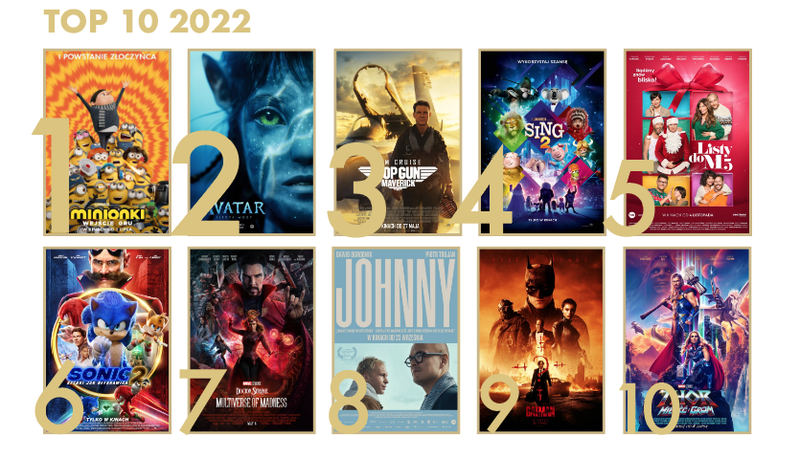 Do zobaczenia w kinie!