In October, 5.5 million viewers saw the films on the big screen. 2 million viewers more than in September. October is the best month in terms of attendance this year and the best month since the beginning of the pandemic, i.e. from March 2020.
We had the opportunity to see great premieres every week. The film about the adventures of agent 007, "Nie Czasać", deserved the title of the best opening, gathering nearly half a million viewers in front of the big screen. The James Bond premiere weekend was the best weekend in October for theaters. In the third week of October, we saw the premiere of "Venom 2", which also had very good opening results (250,000). On the other hand, in the fourth week of last month, the long-awaited film "Dune" was released and during the first days it attracted 240,000 viewers. At the top of the podium for the entire month there was the film "Nie czas Dyać". One and a half million viewers saw him in a month. "Duna" is second with 600,000 viewers. We could see the show on the largest screen in Poland in the BNP Paribas IMAX cinema. On the third step of the podium - "Venom 2", the hit of the UIP distributor, who, despite not reporting full data to BoxOffice, shared the great attendance results of the film opening.
TOP 10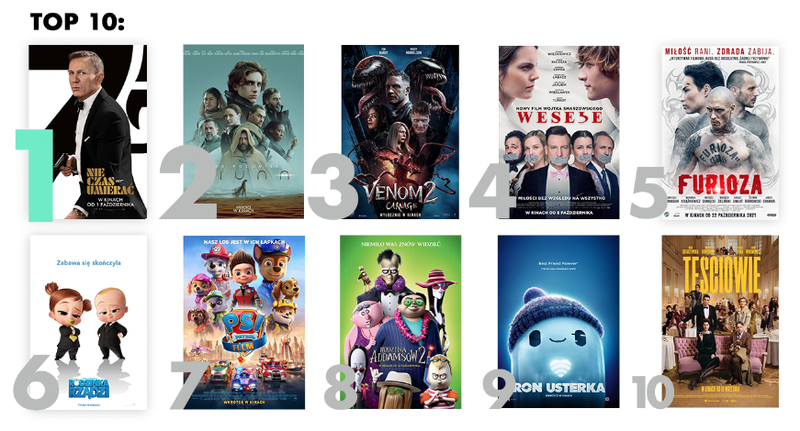 ABOUT NOVEMBER
November will also not disappoint cinema viewers. The youngest will enjoy animations such as "Maja the Bee: Little Big Treasure", or the colorful new film, compared to the box office production of "Coco", from the Disney label, "Our magical Encanto". The continuation of the 1984 hit - "Ghostbusters. Heritage". The repertoire also includes important Polish productions. The latest film by Patryk Vega, "Pitbull", or further stories of previously known heroes from films and series, with Andrzej Grabowski in the lead role. Another noteworthy title is "Because there is sex in me" - a picture devoted to one of the greatest icons of Polish pop culture - Kalina Jędrusik. On the last Friday of the month we will also see the controversial film "Girls from Dubai" directed by Maria Sadowska. Another production worth noting is "French Courier from Liberty. Kansas Evening Sun "- creator Wes Anderson will provide viewers with unconventional effects in the picture and narrative. And for dessert in November, we recommend a stylish detective story with a star cast "House of Gucci". The screen will include Lady Gaga, Adam Driver, Jared Leto and Al Pacino . The film was directed by the excellent Ridley Scott.